The U.S. women's soccer team has won the last two gold medals at the Olympics and will head into the London Summer Games with high hopes of repeating their victory.
Women's soccer became an Olympic sport in 1996 at the Atlanta Games, where the United States won the gold medal, defeating China.  After losing to Norway in the final match at the 2000 Sydney Games, the American women took the gold by narrow one-goal margins over Brazil in 2004 and 2008.
Since that victory four years ago at the Beijing Games, the United States has maintained the top ranking in the world, even though it lost the World Cup final to Japan last year in Germany in a penalty kick shootout.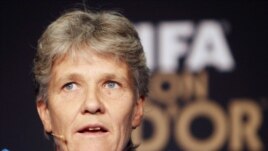 Swedish coach of the US women's soccer team Pia Sundhage attends a press conference in Zurich, Switzerland, Jan. 9, 2012.
​​Coach Pia Sundhage named virtually the same team for London as she had at the World Cup and says they have improved.
"We are a better team today, and I feel great about the preparation," Sundhage said.  "And we have a diverse team.  We have some speed.  We have some technical players.  We have experienced players.  We have young players.  So the thing is to put everything together when it really starts in Great Britain."
Eleven players on Sundhage's roster of 18 have Olympic experience.  One is midfielder Heather O'Reilly who will be playing in her third Olympics.
"I think our team feels like we still have some unfinished business.  I think that although a silver medal at the World Cup isn't something to be completely devastated about, I think that we were disappointed that we didn't come home with gold," she said.
O'Reilly, 27, says she does not mind the pressure of going for another Olympic gold medal.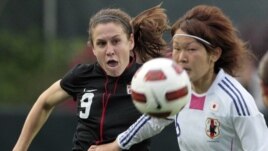 Japan's Mizuho Sakaguchi, right, and United States' Heather O'Reilly (9) chase the ball during the first half of a friendly soccer match in Cary, N.C., May 18, 2011.
​​"I've won gold in 2004 and 2008 so, you know, us Americans, we like winning things.  But you know we wouldn't have it any other way.  But we think pressure is a privilege," O'Reilly said. "You always hear that, and I think that it's true.  We wouldn't want to have any other expectations put on us.  And we're here to represent Americans the way that they would choose."
Making her Olympic debut will be 21-year-old Alex Morgan, who after a breakout performance off the bench at last year's World Cup, has earned a starting role at forward alongside 32-year-old veteran Abby Wambach.
Morgan says she and her family have always watched the Olympics together and that she is thrilled she will get to participate.
"I'm really excited I'll be surrounded by hundreds of other athletes.  You know they've all worked their entire lives to get to this moment.  So we all know what each other have been through," she explained.  "We all know the sacrifices that we've made to get to this point in our lives.  So that's just a really exciting feeling."