President Barack Obama used a speech in the major election battleground state of Ohio to frame the debate with presumptive Republican presidential nominee Mitt Romney over the economy.  Romney also appeared in Ohio Thursday.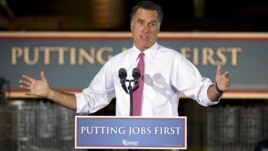 Republican presidential candidate, former Massachusetts Gov. Mitt Romney gestures during a campaign stop at Seilkop Industries in Cincinnati, Ohio, Thursday, June 14, 2012.
​​Romney took advantage of a remark by Obama, his reference to the U.S. private sector "doing fine", to roll out campaign ads challenging the president's understanding of the economy and calling him "out of touch".
Obama's nearly hour-long speech at a community college in Cleveland was designed to contrast even more sharply his economic vision with that of Mitt Romney as both battle for support in the important election swing state.
For Obama, it's been a tough few weeks, beginning with a disappointing May jobs report. There have been questions about the effectiveness of his messages against Romney.
Mr. Obama hammered away at well-known themes, such as the need to continue investments to boost manufacturing, the energy sector, and education, and economic fair play to help the middle class.
he said.
Recent polls show President Obama and Romney in a tight battle in Ohio.  The president has been helped by falling unemployment there, dropping from over 10 percent in 2010 to the mid-seven percent range.
Speaking in Cincinnati, Ohio, Romney renewed his attacks on Mr. Obama, saying his policies have discouraged job growth. "Talking to small employers and big employers, I hear day in and day out they feel this administration sees them as their enemy.  They feel that the Obama policies have made it harder for them to put people back to work," he said.
Some of President Obama's own strategists recently warned that without "a new narrative" he would face "an impossible headwind" in the November election.
Republicans in Congress have blocked Mr. Obama's jobs legislation. Republican House Speaker, Ohio Representative John Boehner, blamed President Obama and Democrats for failing to pass Republican bills to help the economy. "We are going to keep adding to this pile [of bills) and we are going to keep calling on President Obama and Democrats in the Senate to give these jobs bills a vote," he said.
Obama said Republicans refuse to work with him on any plan that would involve raising taxes for the wealthy, and have blocked a "grand bargain" on deficit reduction.
White House Press Secretary Jay Carney said Obama fund-raising relies "overwhelmingly" on small donations, in contrast to the Romney campaign which he said relies heavily on contributions from affluent Americans.
Calling this the biggest source of gridlock in Washington, he urged supporters to use their votes in November to "break the stalemate." "You the people have the final say.  This November is your chance to render a verdict on the debate over how to grow the economy, how to create good jobs, how to pay down our deficit.  Your vote will finally determine the path we take as a nation, not just tomorrow but for years to come," he said.
President Obama later traveled to New York City for more campaign fundraising, this time at the home of two wealthy Hollywood campaign contributors, where the price of attendance can be as high as $40,000.
The White House rejects suggestions that such events show Obama in a negative light by associating him in voter's minds with wealthy Americans rather than the middle class.
He said Romney policies to extend tax breaks for the wealthiest Americans and repeal financial system reforms and environmental regulations, would be a return to policies that plunged the nation into an economic downturn.
"The economic vision of Romney and his allies in Congress was tested just a few years ago.  We tried this.  Their policies did not grow the economy, they did not grow the middle class, they did not reduce our debt.  Why would we think that they would work better this time?  We can't afford to jeopardize our future by repeating the mistakes of the past, not now, not when there is so much at stake,"